This recipe is inspired by one that I found on a website called Green Kitchen Stories. Of course I have adapted it to suit my tastes, (as I imagine you probably will too).
I love bananas and I usually add them freshly sliced to my muesli, but this takes it to a whole new level.
The ingredients are not really that different from 'regular' muesli, it just has a subtle banana flavour that makes it taste out of this world!
And it's actually a little bit quicker and easier to make than regular toasted muesli, as there's no need to melt the coconut oil.
I used maple syrup, but you can substitute your own favourite sweetener. And I recommend that you use your own favourite nut combo – at the moment mine is almonds and cashews.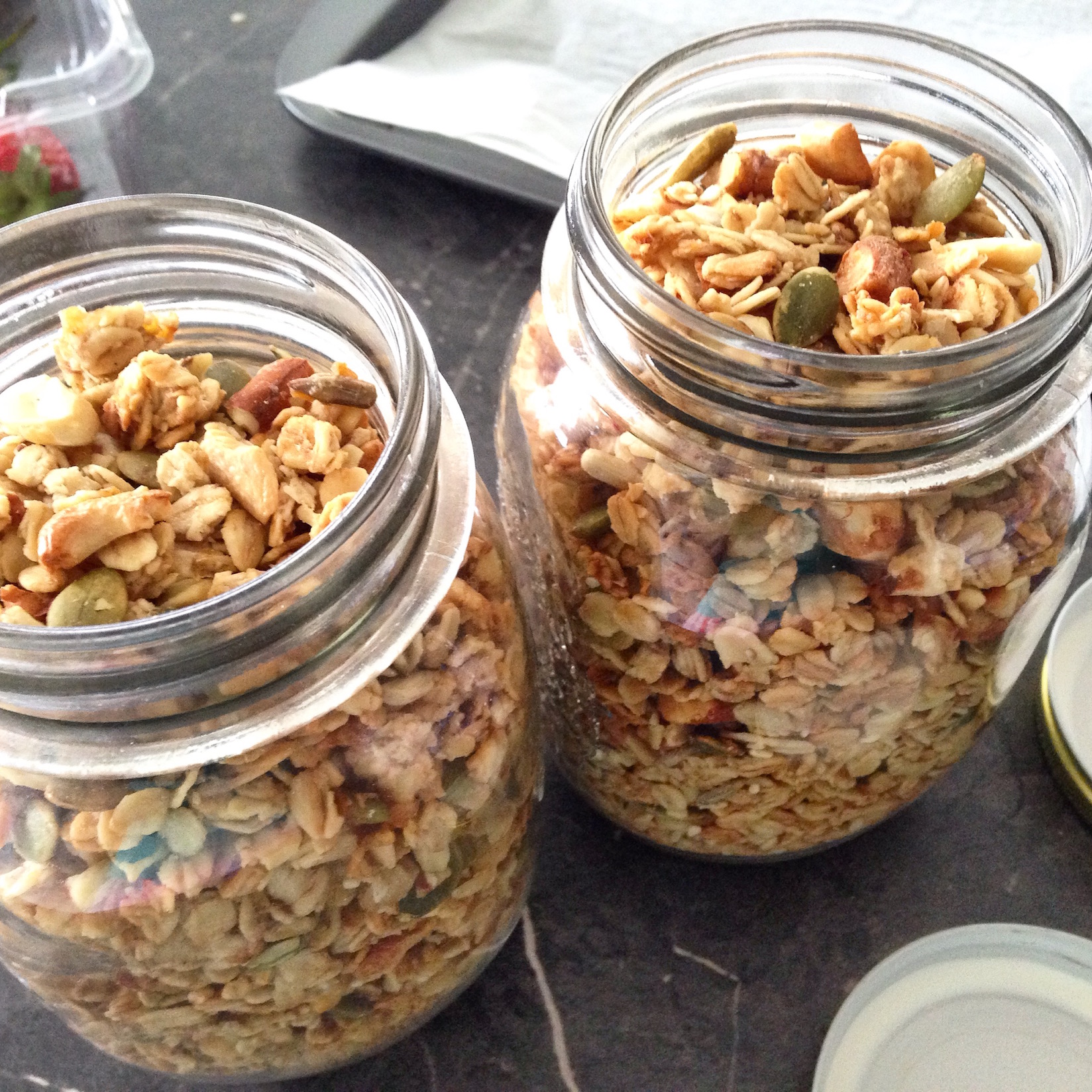 This banana muesli is so yummy, you'll probably eat it straight from the jar, as I have been! So I would recommend keeping one jar at home and taking one to work with you for healthy snacking.
Just add plain or Greek yoghurt for a quick, delish brekkie. There's not much else to say about it, other than if you like bananas, give this recipe a try and let me know what you think.
Banana Muesli
2016-06-02 04:51:44
Home made muesli with a mild banana flavour
Ingredients
3 cups oats
1 cup nuts – almonds & cashews
½cup mixed seeds (pumpkin & sunflower)
good shake of sea salt
1 teaspoon vanilla
3 tablespoons coconut oil
3 tablespoons pure maple syrup or raw honey
2 very ripe bananas, mashed
Instructions
Preheat oven to 150-160℃ and line a baking tray with baking paper
In a large bowl, combine the oats, nuts, seeds, salt and vanilla and set aside
Mix the coconut oil, maple syrup and bananas until well combined and smooth
Add the wet ingredients to the dry and mix together with your hands
Spread mixture evenly on the baking tray and bake for approximately 20-30 minutes, depending on your oven.
When the muesli is golden brown throughout, remove from the oven and allow to cool.
Store in glass jars.
Notes
The oven temperature needs to be fairly low, so that the muesli cooks evenly without burning.
Take the tray out of the oven every ten minutes and turn the mixture to make sure that it's all cooked through.
Wendys Way To Health http://wendyswaytohealth.com/
Don't forget to pin this recipe for later!