Valentine's Day & Chocolate!
Are you trying to come up with just the right Valentine's gift? If you're looking for something that involves chocolate (aren't we all?) then ready on!
If you also want something hand made that looks impressive and is easy to make, I've got you covered with these 3 simple ideas.
You could prepare these very simple, but indulgent treats ahead of time and then surprise your other half after a romantic dinner. Or you could have a fun afternoon making them together, it's up to you.
First up are these rich, chocolately truffles that look gorgeous and are not as tricky to make as you might think. Coating them in melted chocolate at the end is probably as difficult as it gets. All that's needed preparation wise, is a quick trip to the supermarket for the ingredients.
So give this recipe a 5star rating and share your pics on social media. Don't forget to tag me @wendyswaytohealth on Instagram!
Print recipe
Pin Recipe
EASY CHOCOLATE TRUFFLES
Make these chocolate truffles as an indulgent treat for your loved ones at Christmas or spoil that special someone on Valentine's Day.
Total Time
3
hours
20
minutes
Ingredients
200

g

dark chocolate, chopped (minimum 70% cocoa)

150

ml

double cream
Filling
Orange rind, chopped nuts, dried fruit, your favourite liqueur, such as Cointreau – whatever you would like in your truffle centres

Cocoa or cacao powder, dessicated coconut, or extra melted dark chocolate for dusting/coating
Instructions
Break the chocolate into small pieces and combine with the cream in a medium sized bowl. Heat over a saucepan of simmering water. Keep the heat low and stir until the chocolate is completely melted and you have a smooth mixture.

Remove from the heat, stir in your desired filling such as chopped nuts, or orange rind and Cointreau.

Cover the bowl with cling film and place in the fridge for 30-60 minutes, until the mixture is firm, but not completely set.

Remove from the fridge and roll into balls. Place on a tray lined with baking paper and put the truffles back into the fridge for another hour.

Coat the truffles by rolling in dessicated coconut, cocoa powder or melted chocolate and put back in the fridge for 2-3 hours to set.
Recipe notes
This recipe will make 10-12 truffles, depending on size.

I don't think it matters if they're not all exactly the same size or perfectly round – that's the beauty of them being truly hand made.
Nutrition Facts
EASY CHOCOLATE TRUFFLES
Amount Per Serving (1 truffle)
Calories 79
Calories from Fat 77
% Daily Value*
Total Fat 8.5g 13%
Total Carbohydrates 0.6g 0%
Protein 0.5g 1%
* Percent Daily Values are based on a 2000 calorie diet.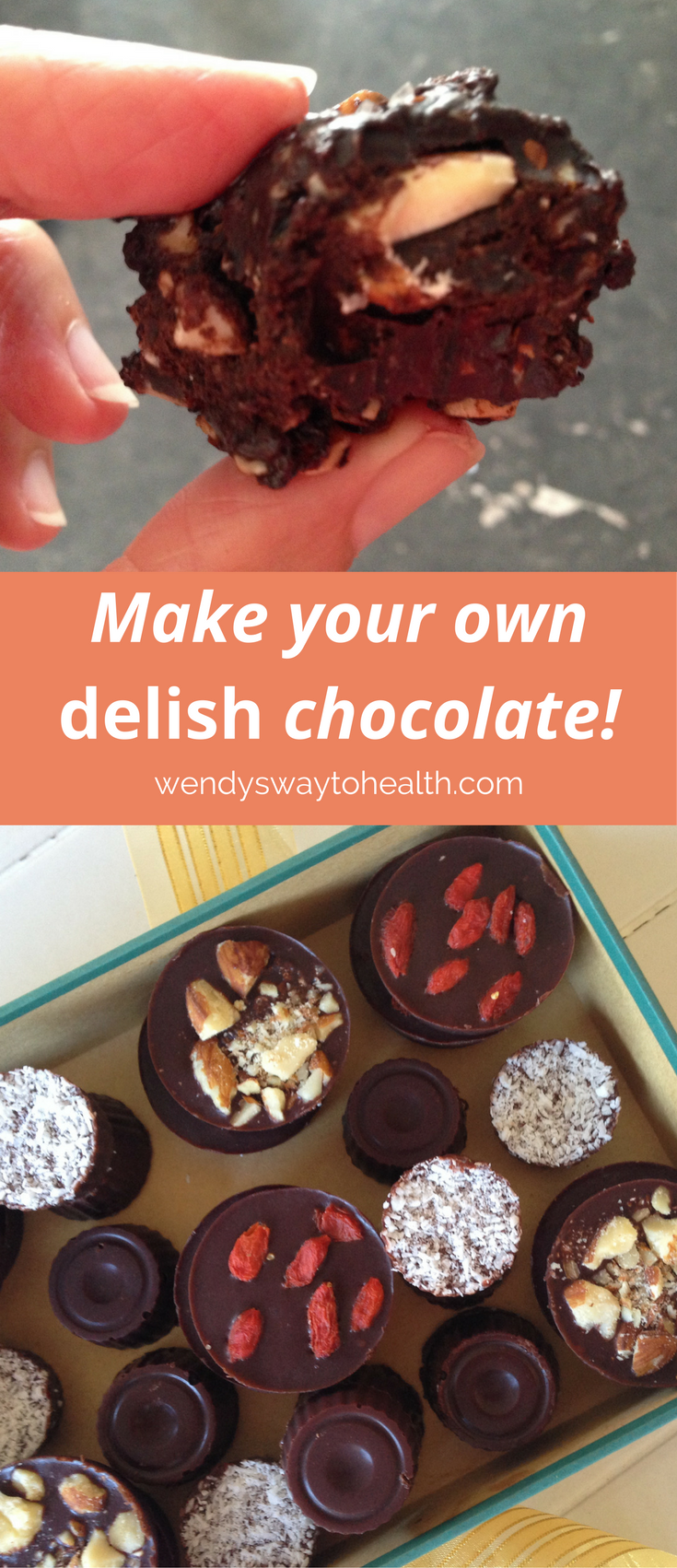 The reason I insist that you buy dark chocolate with a minimum 70% cocoa powder, is that dark chocolate has less sugar than milk chocolate. Also, the higher the percentage of cocoa or cacao powder, the better.
Now if you really want to impress your Valentine and make your own chocolate gifts, it's way easier than you think.
Choc dipped strawberries are so easy to make. They also look and taste amazing!
This is my favourite Valentine's treat, as it was the first and most romantic one that I spent with my husband, Jayson. We were living and working on a tropical island (yep, really!) and we spent the afternoon on a little secluded beach around the back of the island.
We had organised a picnic basket to take with us, but unbeknown to me, Jayson had also arranged a little surprise – choc dipped strawberries. I absolutely loved it, of course, and they went perfectly with our champagne!
So don't underestimate the appeal of simple, thoughtful gifts.
I hope you enjoy your Valentine's Day, whatever you are doing and whoever you are with.