Nutritious post workout pancakes
Pancakes after training are always a delicous treat for me, which is why I developed this post workout pancakes recipe.
My first healthy pancake recipe was a very simple two ingredient recipe back in 2014, and I've been adapting and improving it ever since.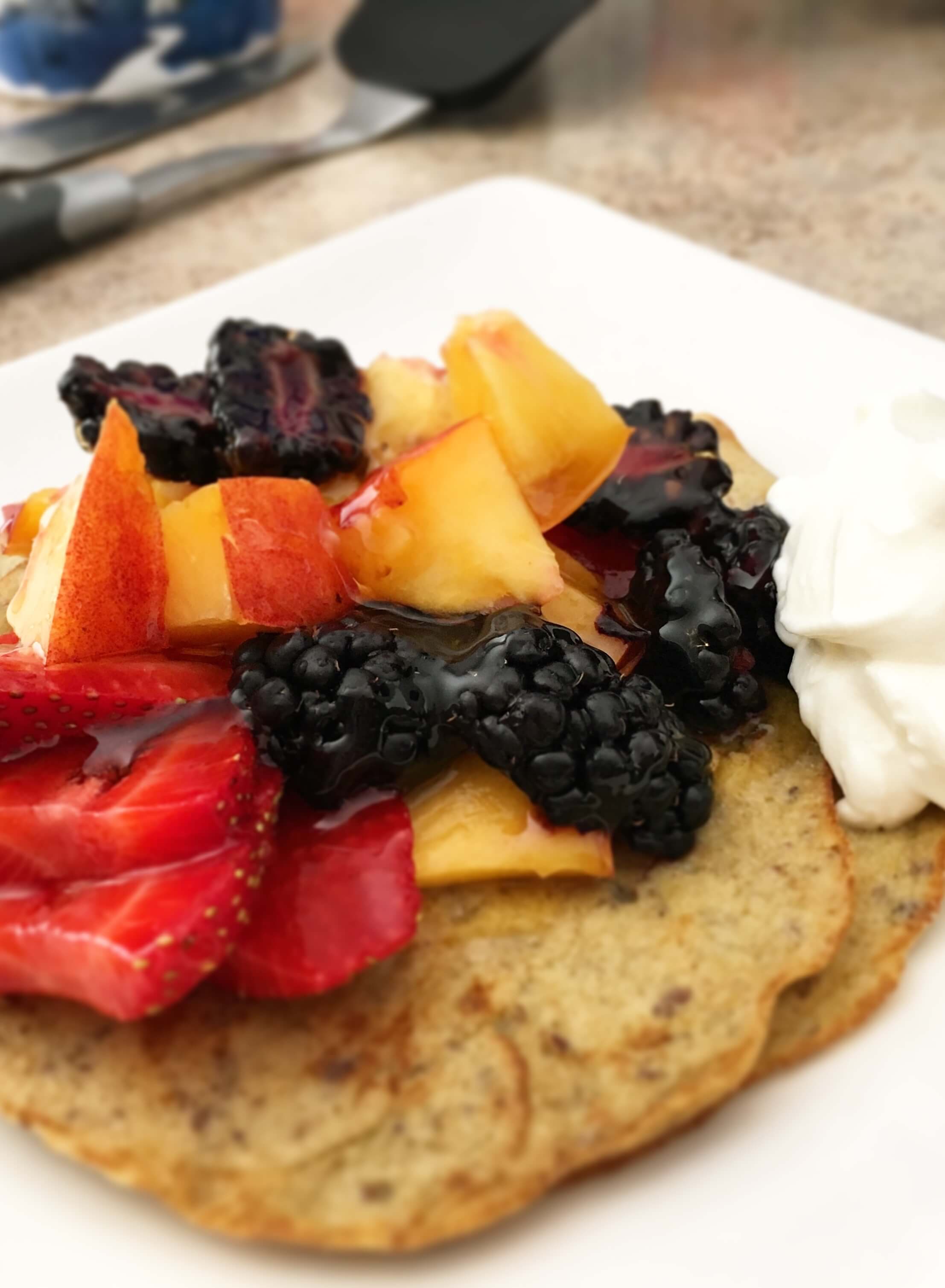 This version of the recipe came about as I wanted the pancake mix to hold together better without affecting the simplicity of it.
And of course, I wanted to still keep it quick and easy to make.
So the very basic egg and banana pancakes now have a couple more ingredients. They?re now easier to cook, and taste even better.
They also have more protein, which is important for post workout nutrition. And still no added or refined sugars.
If you enjoy these pancakes, then you'll love the recipes I've created for you in my Guilt-free Desserts & Snacks ebook.
With over 40 delicious recipes, it's a must have for every healthy home cook.
This recipe makes one large pancake, which I find very filling once you add your fruit, yoghurt and syrup toppings. Simply adjust the quantities accordingly if you're feeding more than just yourself.
Try these topping ideas to keep your pancakes refined sugar free:
Microwave 1/2 cup of apricots (fresh or unsweetened tinned) with the juice of 1/2 an orange for 45 seconds to 1 minute.
Microwave 1 cup of strawberries until warm and syrupy, add a little vanilla essence.
Add a couple of spoonfuls of plain Greek yoghurt or kefir.
For another high protein pancake recipe that doesn't use any protein powder, be sure to try these 3 INGREDIENT PROTEIN PANCAKES.
And these EASY WEEKEND PANCAKES are my favourite indulgent but healthy weekend breakfast.
When you're in the mood for something other than pancakes, I've got you covered with this collection:
Take the 2-week healthy brekkie challenge
Great news!!! In between each live round of the brekkie challenge, I've now decided to keep it open via email, so you can do it as a mini-course.
This round is focussed on adding Omega 3's and antioxidants to your diet, so it's perfect for everyone right now.
I'm challenging you to commit to one simple habit you can implement right now to improve your health. Sign up and take the 2-week brekkie challenge – it's free!
Print recipe
Pin Recipe
POST WORKOUT PANCAKES
Make these post workout pancakes for a delicious and nutritious meal after your next training session.
Ingredients
1

banana

2

eggs

1

tsp

vanilla extract

2

tbsp

almond meal or buckwheat flour

1

tbsp

flaxseed or protein powder
Instructions
Mash the banana in a medium sized bowl.

Add the egg and vanilla, and whisk until well combined.

Keep stirring as you add the dry ingredients and then pour mixture immediately into a hot non stick frying pan.

Cook for a minute or two, until well browned and then flip the pancake over to finish cooking evenly on the other side.
Recipe notes
Make sure that the pan is well greased. I find that an oil spray gives a nice even coating, which is important when cooking pancakes.
If you're stuck for topping ideas or looking for some new ones, try these:
Microwave 1/2 cup of apricots (fresh or unsweetened tinned) with the juice of 1/2 an orange for 45 seconds to 1 minute.
Microwave 1 cup of strawberries until warm and syrupy, add a little vanilla essence.
Add a couple of spoonfuls of plain greek yoghurt if desired.
Serving:
1
person
|
Calories:
145
kcal
|
Carbohydrates:
14
g
|
Protein:
6.7
g
|
Fat:
7
g
Join my free community to learn more about Wendy's Way, and my approach to weight loss and healthy living.
As a valued member of my community, you will:
Gain access to regular email updates, tips & healthy recipes.
Be invited to join the live rounds of the 2-week brekkie challenge 3 times each year, where I provide ongoing free education for Wendy's Way members, relating to a different theme each time.
Be rewarded for your loyalty with exclusive access, and "members only" pricing, whenever I release new products & programs.
Receive free tools & resources, starting with the flexi-menu planner. Learn to prepare quick healthy meals in exactly the right portion sizes without measuring or counting calories.
Join now, and take your first step towards a healthier life.
"Small but consistent changes are the key to phenomenal, long term results."
Don't forget to pin this recipe for later!