Easy chocolate truffles
These rich, indulgent truffles look and taste amazing, and believe it or not, they're not as tricky to make as you might think. Coating them in melted chocolate at the end is probably as difficult as it gets. Hence why I've called them 'easy chocolate truffles.'
They are perfect as a special occasion kind of treat – think Valentine's Day, Christmas or a birthday gift. I think giving a home made gift like these truffles makes the recipient feel special too.
This chocolate truffles recipe is a bit different from my usual "healthier versions" type of recipe. But you know I believe in moderation and that food shouldn't be labelled as "good" or "bad." There are some foods you should eat more of, and some that you should eat less often.
I believe that when you do indulge, you should enjoy it without any feelings of guilt or remorse. Incorporating treats into your meal planning is a good strategy for staying in control. If you feel like you go overboard too often, then read this article for my best tips on DEALING WITH TEMPTATION.
It's also important to use really good quality ingredients, especially when it comes to chocolate. Cheap chocolate usually contains less cacao powder, more sugar and more artificial additives.
So when you make these truffles, please us really good quality dark chocolate, that is at least 70% cocoa. Read more about why that's important in my MAKE YOUR OWN HEALTHY CHOCOLATE post.
Pssst! Have you got your copy of my Healthy Desserts & Snacks recipe book yet?
With over 40 delicious recipes, it's a must have for every healthy home cook.
Now let's get to the recipe!
Print recipe
Pin Recipe
EASY CHOCOLATE TRUFFLES
Make these chocolate truffles as an indulgent treat for your loved ones at Christmas or spoil that special someone on Valentine's Day.
Total Time
3
hours
20
minutes
Ingredients
200

g

dark chocolate, chopped (minimum 70% cocoa)

150

ml

double cream
Filling
Orange rind, chopped nuts, dried fruit, your favourite liqueur, such as Cointreau – whatever you would like in your truffle centres

Cocoa or cacao powder, dessicated coconut, or extra melted dark chocolate for dusting/coating
Instructions
Break the chocolate into small pieces and combine with the cream in a medium sized bowl. Heat over a saucepan of simmering water. Keep the heat low and stir until the chocolate is completely melted and you have a smooth mixture.

Remove from the heat, stir in your desired filling such as chopped nuts, or orange rind and Cointreau.

Cover the bowl with cling film and place in the fridge for 30-60 minutes, until the mixture is firm, but not completely set.

Remove from the fridge and roll into balls. Place on a tray lined with baking paper and put the truffles back into the fridge for another hour.

Coat the truffles by rolling in dessicated coconut, cocoa powder or melted chocolate and put back in the fridge for 2-3 hours to set.
Recipe notes
This recipe will make 10-12 truffles, depending on size.
 
I don't think it matters if they're not all exactly the same size or perfectly round – that's the beauty of them being truly hand made.
Serving:
1
truffle
|
Calories:
79
kcal
|
Carbohydrates:
0.6
g
|
Protein:
0.5
g
|
Fat:
8.5
g
Don't forget to pin this recipe for later!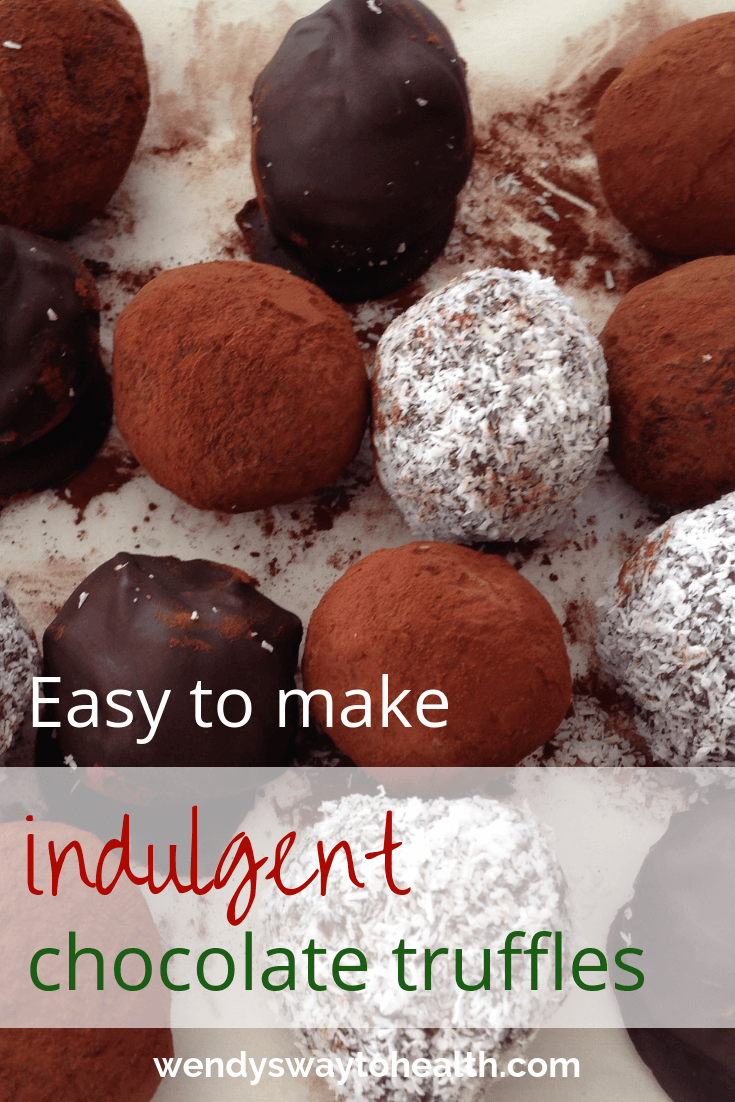 Join my free community to learn more about Wendy's Way, and my approach to weight loss and healthy living.
As a valued community member, you will:
Gain access to regular email updates, tips & healthy recipes.
Be invited to join the free 2-week brekkie challenge 3 times each year, where I provide ongoing education for Wendy's Way members, relating to a different health theme each time.
Be rewarded for your loyalty. Wendy's Way community members get exclusive access, and "members only" pricing, whenever I release new products & programs.
Receive VIP access to my free tools & resources – community members always get 'first dibs' and exclusive previews! 
Take your first step to a healthier way of living that just works.
"Small but consistent changes are the key to phenomenal, long term results."