Raw, Choc, Peanut Butter Energy Bars!
I've slightly changed the recipe and these raw energy bars are yummier than ever!
These are my go-to pre gym brekkie.
They're also great as a post workout snack, especially if you're short on time.
Keep them in a container in the freezer, then you can just grab one to eat whenever you like.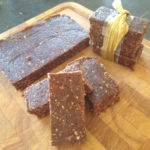 Raw Choc Energy Bars
2016-06-22 00:19:49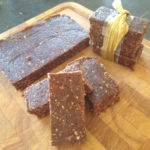 Ingredients
1 ½ cups almond meal
½ cup flax seed
1 cup rolled oats
2 tablespoons raw cacao powder
3 tablespoons of natural peanut butter
16 medjool dates (pitted)
1 tablespoon pumpkin seeds
1 tablespoon Goji berries
2 tablespoons boiling water
Instructions
Line a slice tin with baking paper.
Blend all of the ingredients in a food processor, except the boiling water, until well combined and the mixture forms crumbs. Make sure the dates and oats are finely processed.
Slowly add the boiling water until the mixture clumps together; you may need a little bit more than the 2 tablespoons, I find I do if my measuring isn't spot on!
Pour the mixture into the slice tin and press it down firmly and evenly.
Allow it to set in the freezer for an hour or two before cutting into bars.
Notes
Store in an airtight container in the fridge or freezer for up to two weeks.
Wendys Way To Health http://wendyswaytohealth.com/
Don't forget to pin this recipe for later!