The best homemade toasted muesli
This is the recipe for my original healthy and delicious toasted muesli. I've just added more nuts and decreased the dried fruit in this latest update.
I don't know about you, but I love to add fresh fruit on top of my brekkie bowls too. Always banana, and then whatever seasonal fruit I have on hand.
I always add the dried fruit last, so it doesn't burn in the oven. Same with coconut flakes, they're good to add at the end too.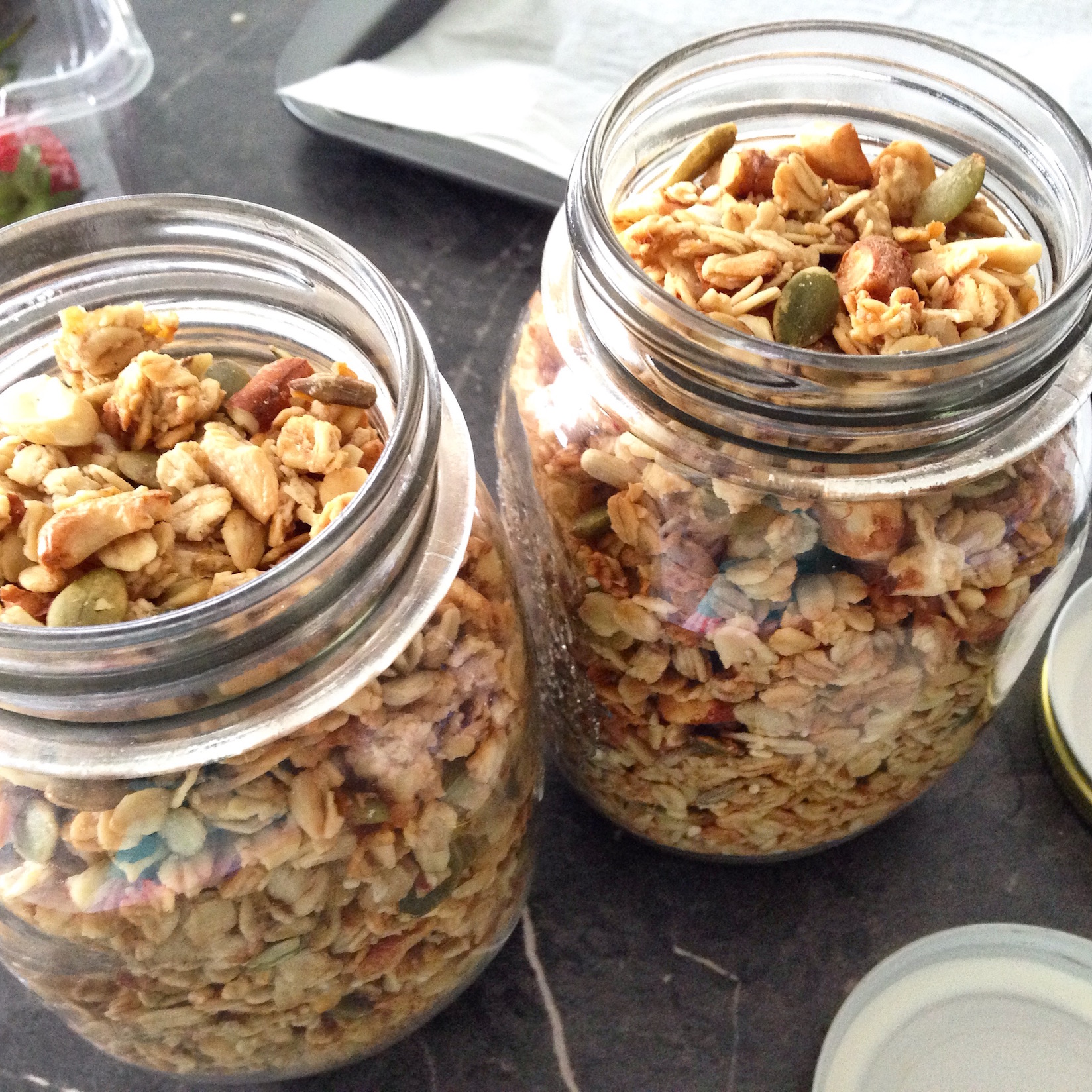 Take the free 2-week healthy brekkie challenge
I'll send you everything you need: recipes, planning & prep tips, tools & resources and a daily dose of motivation.
ALL YOU HAVE TO DO IS COMMIT TO ONE SIMPLE NEW DAILY HABIT.
Some tips for making this toasted muesli
This muesli has plenty of oats, nuts and seeds, so you can totally leave out the dried fruit if you need it to be more "low carb."
When I cook this muesli, I always add the dried fruit in the last 10 minutes or so of cooking time, so it doesn't burn. Same with coconut flakes, they're best to add at the end too.
It's great to play around and tweak the recipe each time with different nuts, seeds or dried fruits, for a different flavour blend.
The oats can also be left out for a gluten free version. Or swap them for quinoa flakes, puffed rice, millet, etc.
Make sure you also try my delicious BANANA MUESLI recipe
And get some brekkie bowl inspiration from these 3 SUMMER SMOOTHIE BOWLS
Take the 2-week healthy brekkie challenge
Great news!!! In between each live round of the brekkie challenge, I've now decided to keep it open via email, so you can do it as a mini-course.
This round is focussed on adding Omega 3's and antioxidants to your diet, so it's perfect for everyone right now.
I'm challenging you to commit to one simple habit you can implement right now to improve your health. Sign up and take the 2-week brekkie challenge – it's free!
Now let's get to the recipe!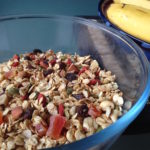 Print recipe
Pin Recipe
TOASTED MUESLI
This simple toasted muesli is the perfect topping to a yoghurt or smoothie bowl and so much better than the store bought varieties.
Ingredients
2

cups

rolled oats

3-4

tablespoons

mixed seeds

eg. pumpkin, sesame, sunflower

1

cup

mixed raw nuts

½

cup

your favourite dried fruit**

3-4

tbsp

shredded coconut

1

tbsp

raw honey or pure maple syrup

1

tbsp

tahini

1

tbsp

coconut oil
Instructions
Preheat oven to 140-160℃ and line a baking tray with baking paper.

Combine the rolled oats, seeds, nuts and coconut in a large bowl.

Gently warm the honey/maple syrup, tahini and coconut oil in a saucepan until smooth and runny. Pour into the bowl and mix to thoroughly coat the dry ingredients.

Spread the mixture evenly onto the baking tray and cook for 15-20 minutes. Baking time may be longer or shorter, depending on your oven and you must watch closely so it doesn't burn!

Once cooled, add the muesli back into the large bowl and mix in the dried fruits.
Recipe notes
When completely cool, store in an airtight container.
I like to use goji berries and dried papaya.
I find that spice such as cinnamon can clump or settle at the bottom of the jar or container, so just add it freshly to each bowl or serving of muesli.
Serving:
1
person
|
Calories:
358
kcal
|
Carbohydrates:
58.3
g
|
Protein:
9.5
g
|
Fat:
9.6
g
Join my free community to learn more about Wendy's Way, and my approach to weight loss and healthy living.
As a valued member of my community, you will:
Gain access to regular email updates, tips & healthy recipes.
Be invited to join the live rounds of the 2-week brekkie challenge 3 times each year, where I provide ongoing free education for Wendy's Way members, relating to a different theme each time.
Be rewarded for your loyalty with exclusive access, and "members only" pricing, whenever I release new products & programs.
Receive free tools & resources, starting with the flexi-menu planner. Learn to prepare quick healthy meals in exactly the right portion sizes without measuring or counting calories.
Join now, and take your first step towards a healthier life.
"Small but consistent changes are the key to phenomenal, long term results."
Don't forget to pin this recipe for later!