Try this immune boosting Winter smoothie
I created this immune boosting smoothie because I much prefer to prevent illnesses than have to deal with being sick and everything it entails. Especially during cold and flu season.
Just the thought of cold & flu tablets and antibiotics makes me cringe. Antibiotics really mess with our health by killing off a lot of our good gut bacteria. And a lot of cold and flu medicines are pretty much just glorified sweets.
Drinking this immune boosting smoothie 2 or 3 times a week will help you keep those Winter bugs at bay. Keep your defences up by eating a diet full of fresh fruit & vegetables, whole grains and healthy fats.
Check out my list of immune boosting foods in this post about NATURAL COLD & FLU REMEDIES and give this smoothie a try.
I also drink lots of green tea, and Rooibos tea for their anti oxidant properties. Read about all of the benefits of drinking Rooibos here: WHY SHOULD YOU BE DRINKING ROOIBOS TEA?
Take the free 2-week healthy brekkie challenge
I'll send you everything you need: recipes, planning & prep tips, tools & resources and a daily dose of motivation.
ALL YOU HAVE TO DO IS COMMIT TO ONE SIMPLE NEW DAILY HABIT.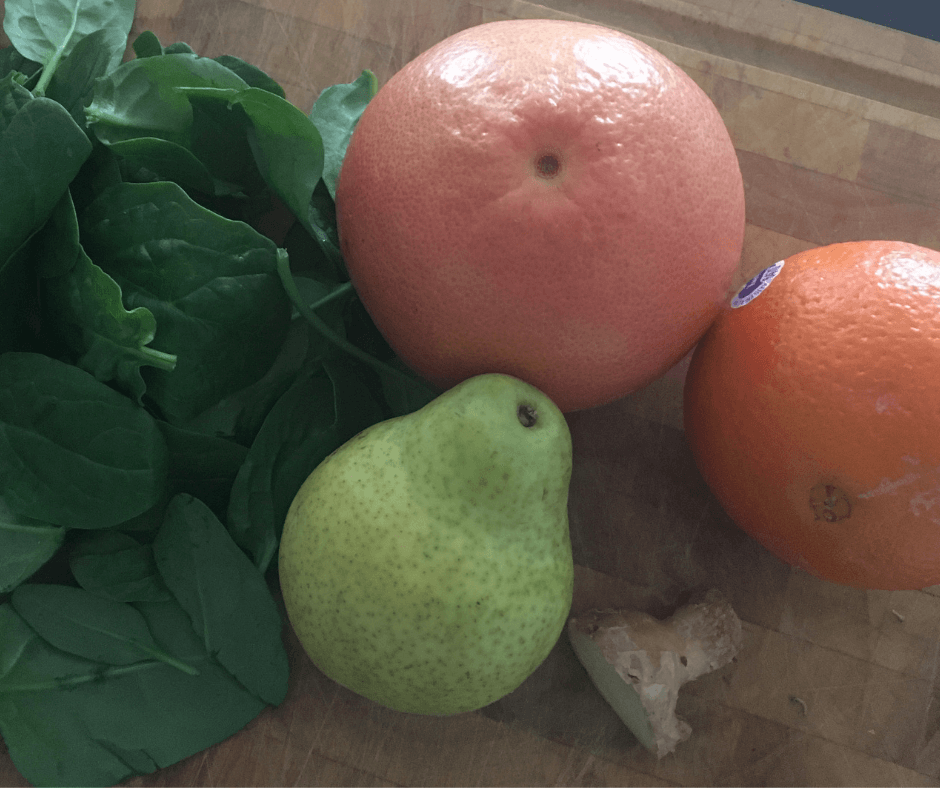 How to make the Immune Booster Smoothie
This smoothie is made with just five ingredients: spinach, orange, grapefruit, pear and ginger.
Remove the peel from the orange and grapefruit, roughly chop the fruit and veggies, and blend until smooth.
Use any variety of pear or grapefruit. I usually use a William pear and a ruby grapefruit.
If you prefer a sweeter tasting smoothie, add another orange, or just use half the grapefruit.
This recipe makes 2 serves, and you can keep it overnight, in a sealed container in the fridge.
If you'd like to try more green smoothies or shakes, I've listed my TOP 5 SMOOTHIES & SHAKES here in this post.
Take the 2-week healthy brekkie challenge
Great news!!! In between each live round of the brekkie challenge, I've now decided to keep it open via email, so you can do it as a mini-course.
This round is focussed on adding Omega 3's and antioxidants to your diet, so it's perfect for everyone right now.
I'm challenging you to commit to one simple habit you can implement right now to improve your health. Sign up and take the 2-week brekkie challenge – it's free!
Print recipe
Pin Recipe
IMMUNE BOOSTING WINTER SMOOTHIE
Try this simple green smoothie to give your immune system a boost during cold and flu season.
Ingredients
1

pear, chopped

1

orange, chopped

1

grapefruit, chopped

1

piece ginger, chopped

1

large handful

spinach

½

cup

water
Instructions
Blend the spinach with the water.

Roughly chop the ginger and all the fruit.

Add to the spinach mixture and blend until smooth.

Divide the smoothie evenly between 2 glasses and enjoy!
Recipe notes
Start with ½ cup of water and add more if your finished smoothie is too thick.
Use any variety of pear or grapefruit that you like. I used a William pear and a ruby grapefruit.
If you prefer a sweeter taste, add another orange, or just use half the grapefruit.
This smoothie will keep overnight if refrigerated in a sealed container.
Serving:
2
people
|
Calories:
108
kcal
|
Carbohydrates:
27.3
g
|
Protein:
2
g
|
Fat:
0.3
g
Join my free community to learn more about Wendy's Way, and my approach to weight loss and healthy living.
As a valued member of my community, you will:
Gain access to regular email updates, tips & healthy recipes.
Be invited to join the live rounds of the 2-week brekkie challenge 3 times each year, where I provide ongoing free education for Wendy's Way members, relating to a different theme each time.
Be rewarded for your loyalty with exclusive access, and "members only" pricing, whenever I release new products & programs.
Receive free tools & resources, starting with the flexi-menu planner. Learn to prepare quick healthy meals in exactly the right portion sizes without measuring or counting calories.
Join now, and take your first step towards a healthier life.
"Small but consistent changes are the key to phenomenal, long term results."
Don't forget to pin this recipe for later!