My favourite smoothie and shake recipes
Smoothies and shakes are a fantastic way of getting fruit and veggies into your body quickly and easily. If you've been reluctant to try a green smoothie because you're worried about how the 'green' will taste, don't worry!
Spinach is the best green vegetable to add to a smoothie, as it has a very mild flavour. You really only taste the fruit, trust me!
In this post I'm sharing my top 5 favourite smoothies and shakes. The ones I make most often that have become my 'go-to' recipes.
Don't be afraid to play around with flavours and ingredients to suit your taste, and you'll soon have your own shortlist of favourites.
Take the 2-week healthy brekkie challenge
Great news!!! In between each live round of the brekkie challenge, I've now decided to keep it open via email, so you can do it as a mini-course.
This round is focussed on adding Omega 3's and antioxidants to your diet, so it's perfect for everyone right now.
I'm challenging you to commit to one simple habit you can implement right now to improve your health. Sign up and take the 2-week brekkie challenge – it's free!
1. EASIEST EVER GREEN SMOOTHIE
I call my favourite green smoothie the easiest ever green smoothie, because it really is! It's a great one to start with if you've never tried a green smoothie before. The mango and raspberries make a delicious flavour combo.
Get the recipe here: EASY GREEN SMOOTHIE
2. BEETROOT & CARROT RED SMOOTHIE
When you're ready to move on and experiment with more vegetables in your smoothies, this is good one to try. It's made with beetroot, carrot, apple and ginger, so it has a delicious natural sweetness.
Don't just take my word for it, try this one for yourself: BEETROOT AND CARROT SMOOTHIE
3. IMMUNE BOOSTING WINTER SMOOTHIE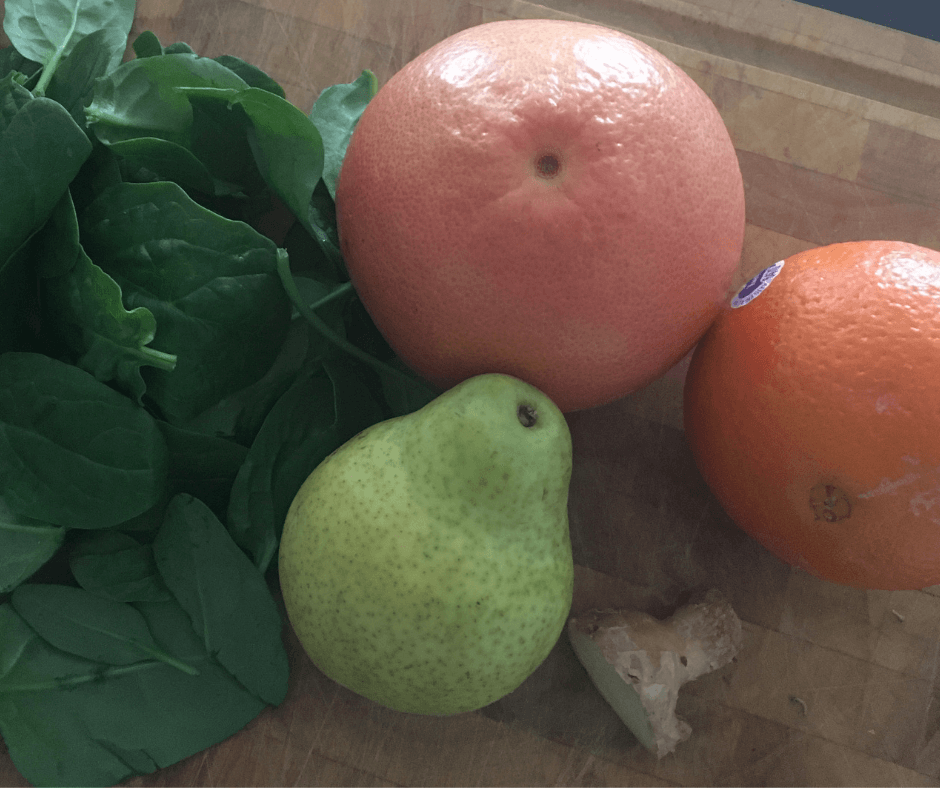 This smoothie is a good one to drink regularly during cold and flu season, or whenever you feel like your immune system needs a bit of a boost. It's made with the delicious combination of orange, grapefruit, per and ginger.
Here's the recipe: IMMUNE BOOSTER SMOOTHIE
Take the free 2-week healthy brekkie challenge
I'll send you everything you need: recipes, planning & prep tips, tools & resources and a daily dose of motivation.
ALL YOU HAVE TO DO IS COMMIT TO ONE SIMPLE NEW DAILY HABIT.
4. STRAWBERRY AND WATERMELON SMOOTHIE
Give this refreshing smoothie a try when you need to quickly replenish your energy after a hard workout. The added bonus with this one is that the watermelon may help to relieve any post workout muscle soreness.
Give it a try: STRAWBERRY WATERMELON SMOOTHIE
This simple banana protein shake is a great way to fuel your body before a workout, or to refuel afterwards. And there are lots of optional extras you can add to boost the nutrients even more.
Try this one yummy shake here: BANANA PROTEIN SHAKE
As always, share your pics on social media when you make any of these smoothies or shakes. @wendyswaytohealth and use the hashtag #wendyswaytohealth on Instagram.
Join my free community to learn more about Wendy's Way, and my approach to weight loss and healthy living.
As a valued member of my community, you will:
Gain access to regular email updates, tips & healthy recipes.
Be invited to join the live rounds of the 2-week brekkie challenge 3 times each year, where I provide ongoing free education for Wendy's Way members, relating to a different theme each time.
Be rewarded for your loyalty with exclusive access, and "members only" pricing, whenever I release new products & programs.
Receive free tools & resources, starting with the flexi-menu planner. Learn to prepare quick healthy meals in exactly the right portion sizes without measuring or counting calories.
Join now, and take your first step towards a healthier life.
"Small but consistent changes are the key to phenomenal, long term results."
Don't forget to pin this recipe for later!