37 healthy breakfast bowls that you'll want to make right now!
No matter your taste, making healthy breakfast bowls has never been easier. I think breakfast bowls, or brekkie bowls as I like to call them, are wonderful, because they can be whatever you want them to be – easy, simple, complex, indulgent, sweet, savoury, etc. The possibilities are endless, really.
My one simple rule is that breakfast must be healthy, easy to make, and delicious. I've put together a collection of recipes in this post that are guaranteed to make you drool. You'll find it hard to believe that some of them are good for you too, but they are – they all are!
By now you know that I have high standards when it comes to healthy ingredients. At the same time, I like no fuss recipes that are easy to make. Faffing around in the kitchen for too long takes all the fun out of it.
 Free brekkie challenge
My motivation for compiling this collection of healthy  breakfast bowls is to give some fresh inspiration to my brekkie challengers.
The free 2-week Brekkie Challenge runs several times each year. You can get more info on the BREKKIE CHALLENGE PAGE.
Or go ahead and sign up here and I'll notify you when the next one starts.
I've hand picked these breakfast bowl and smoothie bowl recipes from some of the best food bloggers around. I'm going to be slowly working my way through trying them, and I hope you do too!
And let's finish off with a bit more sweetness in these delish breakfast bowls
If you're looking for a breakfast bowl alternative to oats, try this gluten free, vegan recipe by Vegan Huggs.
CHUNKY MONKEY BREAKFAST QUINOA BOWL
The combination of peanut butter, bananas, & dark chocolate in this chunky monkey breakfast quinoa bowl will send your taste buds into overdrive.
Get the recipe
Quinoa, apple and walnuts come together in this quick and easy breakfast bowl from Maria Ushakova.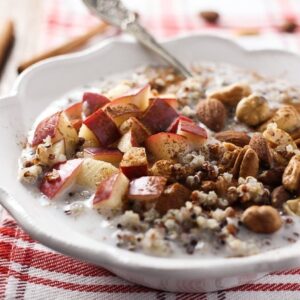 APPLE CINNAMON QUINOA BREAKFAST BOWL
This Apple Cinnamon Quinoa Breakfast Bowl is very easy to put together. It's very filling and full of plant protein, fiber, healthy fat, vitamins, and minerals.
Get the recipe
I love this idea of using roasted blueberries in this quinoa breakfast bowl from Homemade and Yummy.
ROASTED BLUEBERRY QUINOA BREAKFAST BOWL
Sweet juicy berries with protein packed quinoa to keep you full and satisfied till lunch.
Get the recipe
Steel cut oats will only take half the time when you cook them in your pressure cooker, thanks to this recipe from The Kitchen Girl.
STEEL CUT OATS FOR PRESSURE COOKER OR STOVE
A naturally sweetened, steel cut oats recipe, cooked via the Instant Pot or stove in under 30 minutes.
Get the recipe
A Taste of Madness brings an interesting flavour combination together in this oatmeal bowl.
FRUIT, FIGS & PEANUT BUTTER COFFEE OATMEAL
Frozen berries, chia seeds and figs come together perfectly in this easy breakfast bowl.
Get the recipe
Don't forget to pin this post and keep these recipes handy for later!
Join my free community to learn more about Wendy's Way, and my approach to weight loss and healthy living.
As a valued community member, you will:
Gain access to regular email updates, tips & healthy recipes.
Be invited to join the free 2-week brekkie challenge 3 times each year, where I provide ongoing education for Wendy's Way members, relating to a different health theme each time.
Be rewarded for your loyalty. Wendy's Way community members get exclusive access, and "members only" pricing, whenever I release new products & programs.
Receive VIP access to my free tools & resources – community members always get 'first dibs' and exclusive previews! 
Take your first step to a healthier way of living that just works.
"Small but consistent changes are the key to phenomenal, long term results."